GGMM A1 Headphone Amplifier:
Most cellphones are not for Hi-Fi music with amps inside. However, there are many streaming music providers today, so you get music without a problem, but high-quality music is a problem. A1 is the best solution for you.
Whatever you listen to, whatever you listen through, the A1 adds vivid definition to your sound and creates a truly immersive listening experience. It brings sound back to life like never before, with processing that optimizes any audio content to deliver a richer world of detail and enjoyment for music, movies, and more.
Compatible with:
Support almost all Android 5.0 and above micro USB port devices (note: some old or unconventional smartphone may not compatible with the device. Please contact with us if you're not sure does the device support your phone or not.)
Package Included
1. A1 Amp
2. Micro usb adapter
3. User manual
4. Warranty card
Specification
- THD+N: <0.013% - Power current: 60mA max - output voltage: 1460mV - support impedance: 16Ohm ~ 150Ohm - There are 2 types for you to choose, one is for android(micro usb) connection, another is for type c port, please choose the one you need, thanks.
Compact and Metal CNC combine design
with metal material and touch feeling, minimal but not simplify
High resolution decoder chip built in
most phone in the market only can decoder 16bit/48kHz sound source, even you with high quality headphone also can't enjoy best music, with our A1 device, it can up to 24bit8192kHz decorder, give you original sound fest.
2 Mode ( type c to 3.5mm or micro-USB to 3.5)
Suit for various mobile phone in the market, you can choose model match which match your device, no adapter needed, beside, package also included USB adapter for PC use.
Power consumption
with no battery built-in , avoid keep charge and short time use, you can take it to anywhere at anytime (only 11.6g)
Note
If you are not sure A1 support your phones, please confirm with us first, our customer services are stand by at any time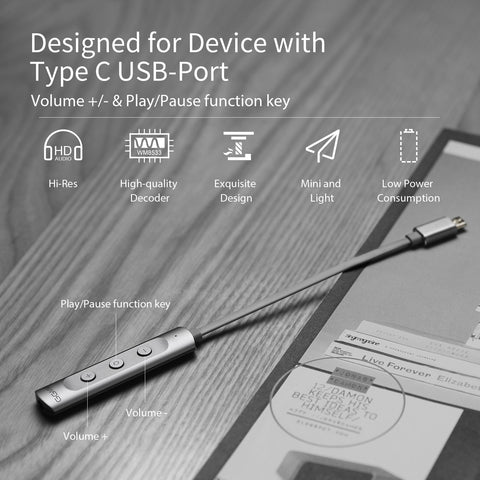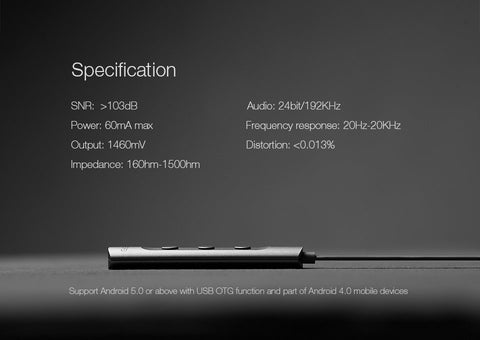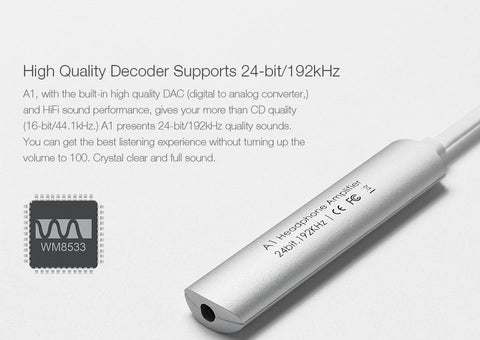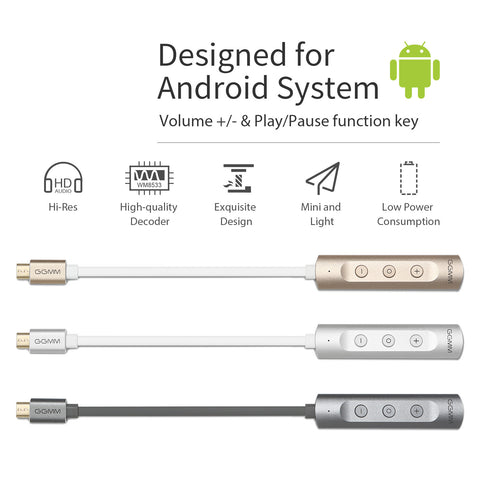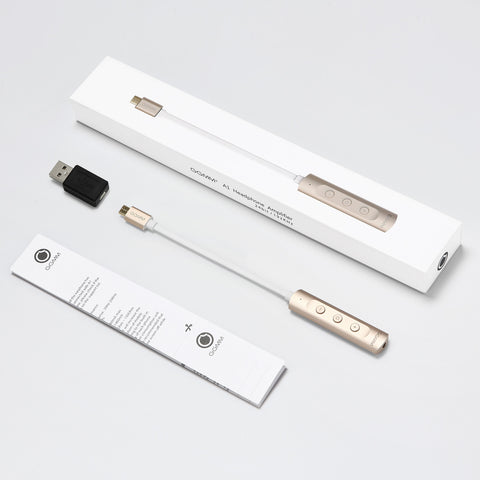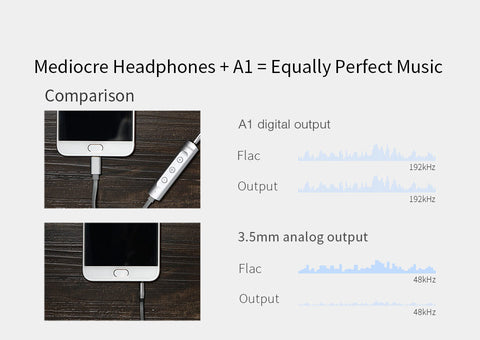 Feature 1
Enter a short text here about the feature of your product.
Feature 2
Enter a short text here about the feature of your product.
Feature 3
Enter a short text here about the feature of your product.