【Built-in 10x HD Camera for Amplification Display】

Contrary to blind suction, the built-in HD micro camera makes it visible for you to interestingly observe the whole suction process easily on your phone. When putting it on your nose, you can directly see whether there are blackheads or not. When suction, you will know whether the blackheads are out or not.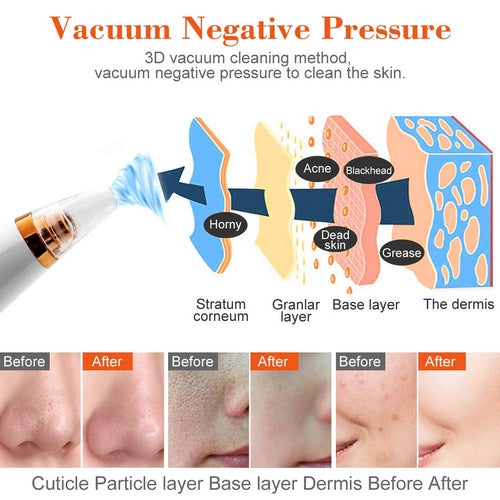 【No More Troubles of Redness or Bruises】
With HD amplification display, you can easily see what is really happening on your nose, whether the blackheads burst out or not and how many of them are sucked out. Thus you can accurately locate the blackhead area, control the suction time and move the suction heads accordingly. Then effectively avoid the harm to your skin like redness or bruises caused by blind suction.
【
User friendly

】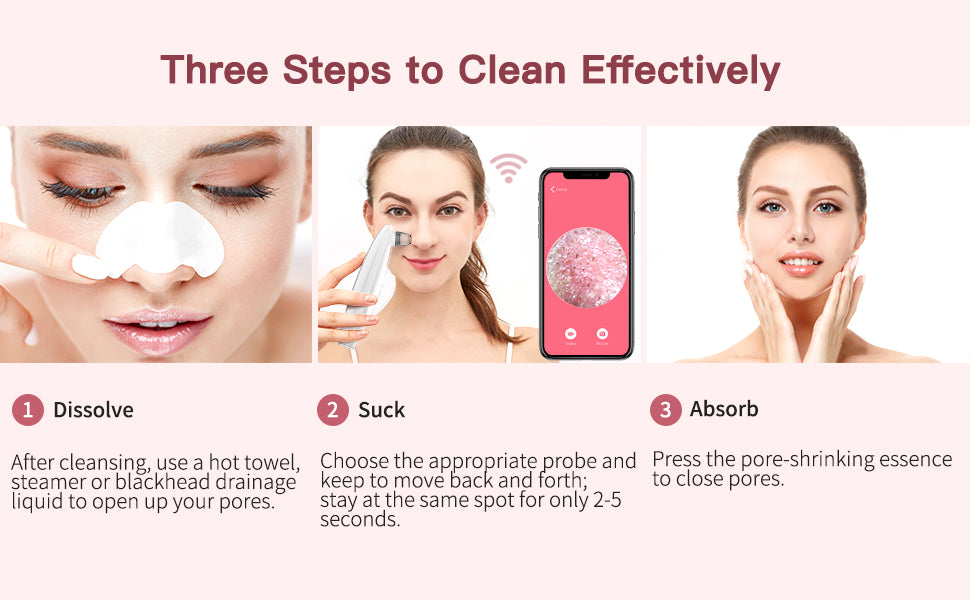 【Product description】

Visual Blackhead Remover:
Real-time observation of Blackhead Absorption Process through APP on Phone

Specifications: 3.7V-1000mA
Power: 3.7W
Noise: 60dB(30cm away from the product)
Waterproof: No
Dimensions: 152*44.5*46.5mm
Material: ABS
Shipping Weight: 275g
Charging method: USB charging
Batteries: 1 Lithium Polymer batteries included.

【Package Included】
1*Blackhead remover
3*Replaceable probes
5*Replaceable sponges
1*USB
1*User manual
【
Precautions

】

Improper use of the product may cause skin redness and bruises etc. Please read the user manual carefully.

Please not keep the product operating on one area for more than 3 sec, and the duration of each treatment shall not exceed 5 min.

Please move the device in a single horizontal direction.

Please use the blackhead export liquid/ hot towel to soften the pores firstly, and the hot compress time should be enough before using the blackhead remover.

Please test the suction power on the palm or forearm firstly, and it is recommended to use the first gear at the beginning.

Please do not use the device if you have any skin infections, wounds, adverse reactions, etc. Consult your doctor first. This blackhead remover is not suitable for people with a sensory or mental disability or lack of experience. Children must be supervised by a guardian to guide the use of this product.

It is suggested to use the device at night or on weekends, so you can have more time to use masks or essentials to repair your skin.

The product is not waterproof, please do not touch the water during use and storage.

 
Fast Shipping
Easy Returns
24/7 Customer Service